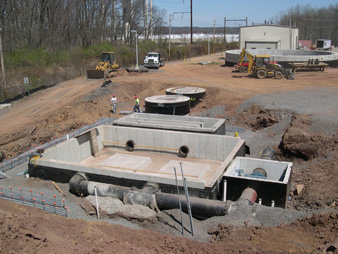 NAWC Sewage Treatment Plant
Client: Warminster Municipal Authority
Engineer: CKS Engineers, Inc.
Location: Warminster, Pennsylvania
Value: $ 10.2 Million
Completion: September 2005

Details:
The project included construction of a 1.2 MGD Wastewater Treatment Plant, complete with all appurtenances. The major items of work included the demolition and removal of the existing plant structures and the construction of all new facilities, equipment, buildings, yard piping, concrete structures, controls and instrumentation. The new facilities included an influent pumping station, screen and grit removal system; sequencing batch reactors; filter screens; ultraviolet disinfection; effluent pumping system; aerobic digestion, and centrifuge dewatering system. The contract also includes temporary bypass pumping.