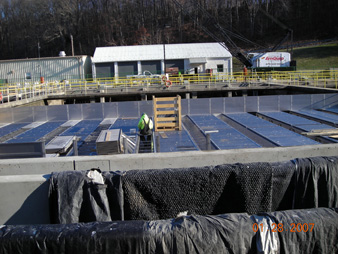 Octoraro Water Treatment Plant – Pretreatment Improvements

Client: Chester Water Authority
Engineer: CET Engineering Services
Location: Octoraro, Pennsylvania
Value: $5.5 Million
Completion: June 2008

Details:
The Project consisted of constructing pretreatment improvements to the Water Treatment Plant.

Major work elements included:
New raw water blend tank to blend Octoraro Reservoir water with Susquehanna River water.

Installation of new stainless steel inclined plate settlers in Sedimentation Basins 1, 2, 3 and 4.

Sedimentation basin concrete outlet flumes with new filter top mixer.

Modification to Clearwell flumes.

New filter top lime feed pumps and FRP Building.

New post 1ime feed pumps.

Related electrical work.